These Ten Commandments Nutter Butter Cookies are perfect for Passover and will help keep the Ten Commandments in our kid's minds for years to come.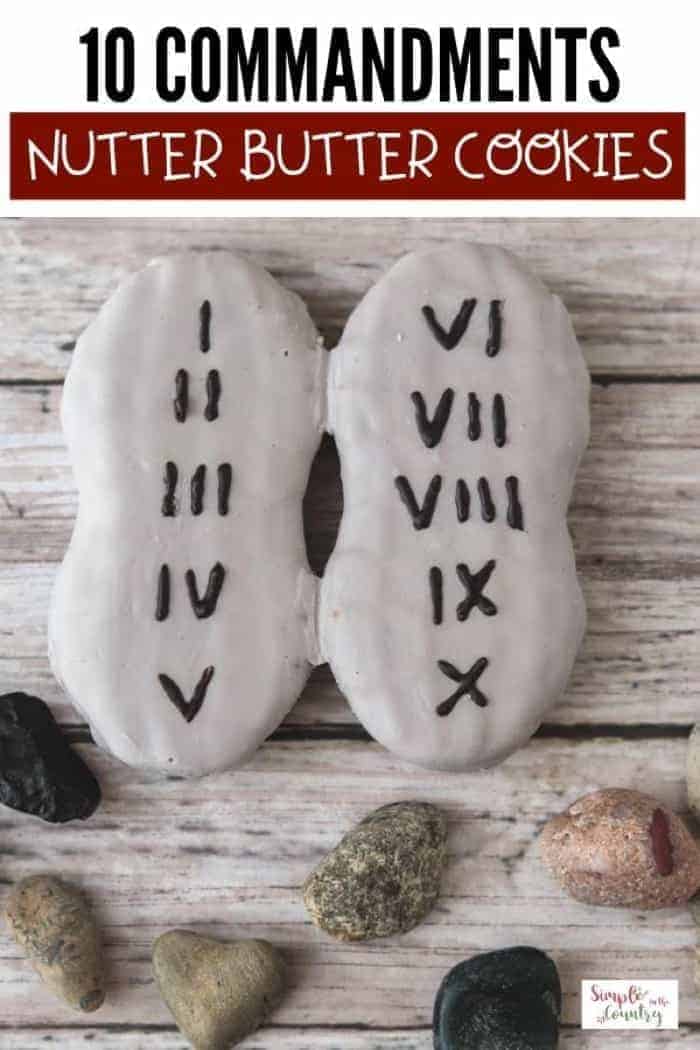 I've been looking for ways to create memories around our Creator's holy days and these cookies are perfect for that.
If you have older kids have them help you create them. You can go over each commandment as you are decorating the cookie tablets.
For younger kids, you can create the cookies and then go over each commandment as they are eating the cookies.
What do you need to make Ten Commandment Cookies Nutter Butter
2 cups white melting chocolates
1 cup black melting chocolates with 2 set aside
1⁄4 tsp coconut oil
*any colors can be created using a base white melting chocolate and
blending in a tiny amount of coloring (must be chocolate coloring)
Additional items:
ramekins and pan for double boiler set up
piping cones *optional
chocolate dipping wand or fork
wire cooling rack
toothpicks
How do you make Nutter Butter Ten Commandments Cookies
Set up a double boiler with shallow pan and ramekins for each color chocolate. Fill with water till halfway up side of ramekins *careful not to get water inside them as it will seize the chocolate. Turn heat to medium low.
Combine white chocolate and 2 black chocolates to create gray. Add 1/8 tsp coconut oil to one ramekin stirring to combine as they melt.
Place remaining black chocolates in another ramekin with 1/8 tsp coconut oil.
Using wand or fork, dip nutter butter cookies in gray chocolate until thoroughly coated.
Hover above dish as chocolate drips off. Use a toothpick to pop any air bubbles that form.
Set on wire rack to harden.
To create the two tablets, dip a toothpick into the gray chocolate and adhere two dipped nutter butters together on the sides.
To create the lettering, use a toothpick dipped in the black chocolate or fill a piping bag with melted black chocolate and a tiny hole snipped at the end. *you will need to work very quickly if you use a piping bag as the chocolate hardens fast.
On the Ten Commandments  Nutter Butter Cookies tablets, form the Roman numerals 1 through 10 (1-5 on one and 6-10 on another) with the toothpick dipped in black chocolate or the piping bag. Do this for three tablets.
To create the individual commandments, draw the roman numeral at the top of each nutter butter and squiggly lines to mimic words underneath.
Set to dry and harden.
Store in an airtight container.
Makes 16 dipped 10 Commandments nutter butter Cookies
(3 tablets and 10 individual commandments)
Watch the Video on YouTube